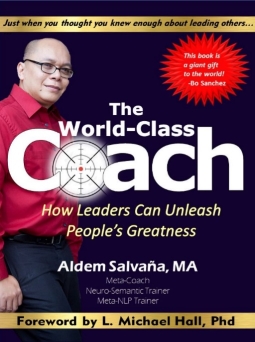 brkthru.consulting@gmail.com
ALDEM SALVAÑA is the Chief Servant Coach of Breakthrough Coaching and Consulting Inc. and serves as Senior Coaching and Leadership Resource for 7 consulting firms including "the Ateneo Center for Continuing Education and the University of Asia and the Pacific. Has facilitated workshops for over 10,000 leaders of over 450 companies and organizations for over 20 years locally and internationally.
A Neuro-Semantic Trainer, NLP Trainer, Executive Meta-Coach serving business owners, executives, managers. Coaching has been his passion for over 10 years.
Author of the first Filipino book on Meta-Coaching entitled "The World Class Coach- How Leaders Can Unleash People's Greatness."
Married for 21 years with 5 children to his company CEO, Vanessa, also a Meta-Coach and Neuro-Semantic Modular Trainer.
Facilitates the development of self-actualizing leaders that run self-actualizing companies and organizations.
Other Professional Highlights:
·   Philippine Sponsor of workshops by Dr. L. Michael Hall
o   the Coaching Change Certification Workshop
o   Political coaching
o   Coaching Kids
o   the first Philippine Meta-Coaching Certification Boot Camp
o   Group and Team Coaching introduction
·   Commissioned by companies to
o   design and facilitate the Neuro-Semantically Themed Breaking Through Performance Barriers Workshops for all employees
o   Design the Coaching Culture Programs
·   Related core competencies are in leadership development, team creative problem solving, change management, and teambuilding. He has helped turn around organizations that would otherwise have disintegrated, and reestablished leaders from losing trust, unity, and productivity.
·   The first Filipino Certified Facilitator of Dr. John Kotter's "Leading Bold Change"
·   Certified facilitator of Dr. John C. Maxwell's "The 21 Irrefutable Laws of Leadership" and "Developing the Leaders Around You" and Steward Leaders Training.
·   Certified facilitator of the "DiSC Behavior Profile" and the "CARE Team Effectiveness Profile".
·   Served as fulltime faculty of the Ateneo de Manila University for 15 years.
·   Master's Degree with PhD Units in Theological studies, and Bachelor's Degree in Philosophy at the Ateneo de Manila University.
Roster of Clients include:
Accenture, Cisco, Fujitsu, HP, Microsoft, NEC, Samsung, Sun Microsystems, SSS , Supreme Court,
PepsiCo, Avon, Dupont, J&J, Lafarge-Holcim, Toyota, Tupperware, Unilever, Masterfoods, Nestle, Damco,
DHL, Maersk Line, Shell, American Express, ADB, Citibank, Del Monte, Kraft, Hersheys, Pfizer, among others.