Neuro-Semantics
Actualizing Meaning and Performance
L. Michael Hall, Ph.D. Neuro-Semantics Publications, 2011.
Paperback — $25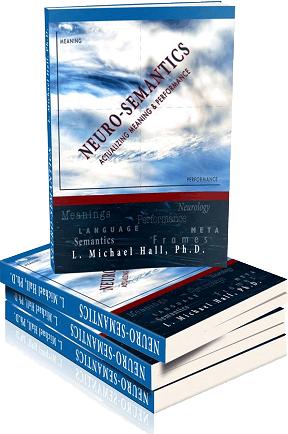 What is Neuro-Semantics? Are you ready to discover what it is? Here in this book you will explore the key models that govern this inter-disciplinary field. Here you can experience many of the essential patterns for using Neuro-Semantics to actualize your highest meanings (values, visions, beliefs) into your best performances (competencies and actions).
Neuro-Semantics, as the field that today is continuing the work of Abraham Maslow and the first Human Potential Movement, is articulating the principal processes for facilitating the self-actualizing life in the new Human Potential Movement—Neuro-Semantics. Neuro-Semantics is also taking NLP to a whole new level as an ethical profession.
In this first definitive work on Neuro-Semantics, Dr. Hall introduces you first to the Dimension of Meaning and then to the Performance of Meaning so that you will be enabled to think and communicate like a fully competent Neuro-Semanticist.
To Order By Mail:
NSP: Neuro-Semantic Publications
P. O. Box 8
Clifton, CO. 81520– 0008 USA