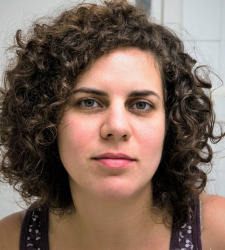 Maíra is the Director of INAp (Institute of Applied NLP) in Rio de Janeiro – Brazil. Company created by her father in 1993, who's her business partner and who's shoulders she stands upon. Despite her young age, she had an early start in her NLP career, having made her first NLP Practitioner at the age of 18. She's been deeply involved with NLP since 2009, when she finished her Master Practitioner and has been teaching NLP Practitioner since 2011, after revisiting the Practitioner Training at NLPU with Robert Dilts and Judith DeLozier, where she later revisited both Master Practitioner in 2012 and Trainer's Training (Trainer and Consultancy) in 2013.
Being an enthusiast of the NLP origins and history, after attending her first ACMC Certification Training (Meta-Coach Foundation), she decided to go and study with as many of the NLP original authors as she could find, specializing in NLP history. Nowadays she's recognized as one of the specialists in the field in Brazil, having also studied with Stephen Gilligan (Trance Camp – USA), John Grinder (Classic & New Code NLP Practitioner), David Gordon (Therapeutic Metaphors & Advanced Modeling – Brazil) and attending both Byron Lewis' and Frank Pucelik's lectures at the NLP Conference in 2012 and the 40 years of NLP encounter (Santa Cruz – CA).
Besides NS and NLP history, she's also passionate about modeling. And has had many opportunities to model many NLP Trainers, since she also works as translator for the Latin-American NLP Conference, Metaforum International, the Neuro-Semantics trainings organized by INAp in Brazil and Rogerio Castilho Institute (São Paulo). As a translator she got a chance to model:  Robert McDonald, Tom Best (Trainer's Training – NLP-IN), Michael Hall, Judith DeLozier, Tony Robbins, Roxanna Ericsson, the NS Master Trainers: David Murphy, Colin Cox, Lena Gray and many others.
She's been studying Neuro-Semantics since 2010, became a Neuro-Semantics Trainer in 2014 and is currently on the pathway to become Meta-Coach Trainer.
Her background is in Biological Sciences, specializing in Molecular Biology and Cell Signaling. She shifted careers in 2009, after discovering during her Master's Degree that she belonged somewhere else. Since that, she's been seeking her own self-actualization and has been helping her Coaching and Training clients to do the same. She's also certified in Self-Actualization Psychology by the ISNS.