SYSTEMIC COACHING
Coaching the Whole Person
L. Michael Hall, Ph.D. with Pascal Gambardella, Ph.D.
Neuro-Semantic Publications, 2013 – 280 pages – $25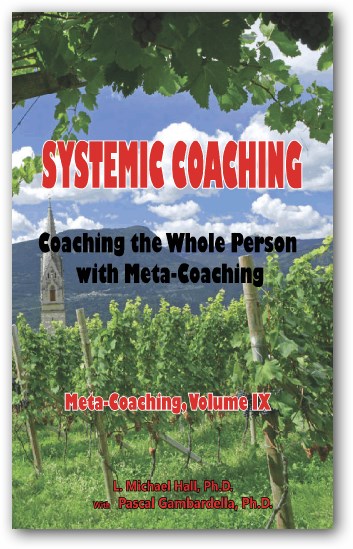 Coaching is systemic by its very nature. In fact, if your Coaching isn't holistic, it is not truly coaching. And for coaching to be truly effective, it has to be systemic by design. Yet most coaches today do not coach systemically, don't know how to coach systemically, and in fact, most have not been trained to think and work systemically and do not have systemic models to work with.
In this book, Systemic Coaching, all of that changes! This is the book that will enable you as a Professional Coach to discover what it means to think and work systemically. In this book, discover how to use the Matrix Model as a systems model so that you can effectively and with confidence "follow a client's energy through his or her system." In this work, you'll learn the key variables in the human mind-body-emotion system, how to distinguish the causes from symptoms, how to recognize the information–in — energy–out loops, and much more.
Systemic Coaching is the ninth book in the series of Meta-Coaching books and so introduces the most systematic approach to the field of Coaching. And with this work, it introduces also the most systemic approach to Coaching in the twenty-first century.